Gundog Work at Rivermeadow Labradors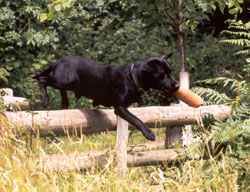 With many generations of working breeding behind them my dogs are instinctive game-finders. During the winter months we pick up twice every week on a busy Sussex Estate. With a lot of woodland and dense cover, the Picking Up team need dogs they can trust to hunt out the game. Their natural hunting ability and confident attitude to work make my dogs an integral part of the team.
In the South East we are fortunate to have a number of Gundog Clubs, who run training classes and Working Tests throughout the summer months. Beneficial and enjoyable, I try to attend as many as possible, especially with my young dogs, and am proud that over the years my boys have been awarded a number of awards in Working Tests and Scurries.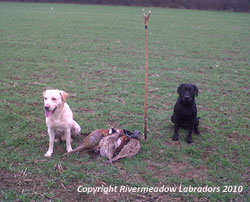 My dogs are trained using kind, gentle and encouraging methods only. Retrieving should always be FUN. They intuitively want to find things and bring them to me. I just have to remember to be grateful whatever the article is that I am presented with – sometimes it is hard to remember to be delighted when a dead fish is proudly delivered to hand!