How it all started: Tarka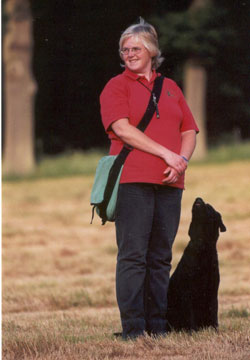 In 1997 I, was given my first Labrador. Tarka.
I was a horsy girl in those days, and it was my farrier who suggested I train Tarka to be a gundog. The perfect first gundog, Tarka wanted only to please. His habit of "just checking he'd got it right" taught me so much about training, and we went on to achieve many places in Novice Working Gundog tests.
I now had the "gundog bug"! Local gundog trainer Graham Roberts bred his first Riversway litter from which Fife (Riversway Apollo) joined our family.
Because I wanted to do Agility with Fife I had his hips and elbows scored before commencing training. To my delight they came back 0:0. Agility proved to be as addictive as gundog training, and every evening still sees me training my dogs for one discipline or the other.
Over the years a number of people saw Fife enjoying gundog work and agility and asked to use him at stud. From some of these litters, Ash and Oak, joined our family and enjoy "following in Dad's pawsteps!"
Sadly Tarka is now watching over us from Rainbow Bridge. I hope he is proud of the way his "Mum" turned out.